Using a Forward Pick strategy helps keep a smaller volume of inventory in easily accessible bins (Forward Pick) with the excess stock in remote bins (Reserve Storage) (Figure 1). The Forward Pick zone in a warehouse functions as a "warehouse within a warehouse": many of the most popular SKUs are stored there in small amounts, typically measured in "days" on hand, so order picking can be concentrated within a relatively small area. This reduces unproductive travel by order pickers and enables closer supervision. The trade-off is the Forward Pick zone must be replenished from a bulk storage or reserve storage zone elsewhere in the warehouse where inventory levels are measure in "weeks" or "months" on hand. A typical Forward Pick zone for small parts is an aisle (or more) of carton flow rack(s) easily replenished. Because it is relatively inexpensive to pick from a Forward Pick zone, the space is particularly valuable. During the planning horizon Forward Pick bins are dedicated, with each SKU allocated a carefully determined volume. When creating a Forward Pick zone consider this space may become congested with picking operators as more picks are centered in this space. You might counter this effect by putting the highest moving SKUS in multiple bins within the zone.

With a Forward Pick strategy proper replenishment placement and timing is critical to the efficiency of the strategy. The product must be located in the Forward Pick bin when an operator reaches the pick face. Waiting for restocks causes unwanted downtime or incorrect order fulfillment. However, the replenishment process can be rather time consuming. It needs to be properly managed to balance picking efficiency gains and the additional replenishment labor.
A productivity drain in the warehouse results when an operator goes to a bin to perform a pick and there is not enough product in the bin to complete the task.
Pre-posting is the process of validating inventory is available in the pick bin and in the required quantity before the operator is dispatched to pick the order. If, there is not enough inventory a replenishment needs to be made to the bin. This helps avoid the wasted trip of going to an empty or short bin for a pick. Studies have shown it takes up to four times as long to pick inventory that is not in a bin than it does to pick available inventory. Think about it. When an operator goes to a bin for a pick and there is not enough inventory, what happens?
First they look at the screen a couple times to recheck and make sure they are in the right place and are looking for the right product.
Next they search behind the pallet;
Look in the bin to the right, look in the bin to the left;
Until they finally give up,
And call the supervisor,
And finally move on to the next task. All of this is wasted time. Bottom-line; make sure you have up to date and accurate inventory record accuracy else you cannot have an easily managed replenishment strategy.
As you analyze your operations you will begin to better understand your order profiles and typical picking units of measure. For example many companies are selling through multiple channels including e-commerce and to major retailers. These different order types require different picking units of measure. For example e-commerce orders are typically each picks while retail store orders are cases and/or pallet picks. Setting up your warehouse to support these different pick types will improve throughput, reduce pick errors and improve overall labor productivity (Figure 2). You may also hear this concept referred to as a "warehouse within a warehouse".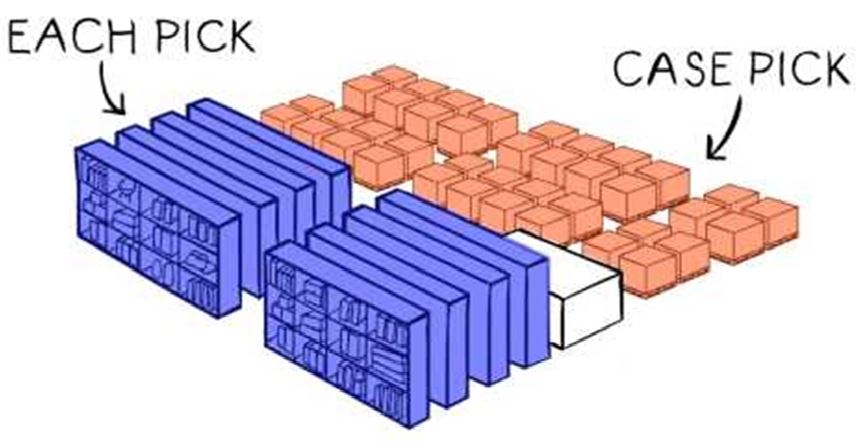 For more information on how WMS Software can transform your business, download our "Business Case Development" whitepaper here.