Most people want to do a good job, know where they stand, and be recognized for their performance. One easy way to accomplish this and also improve productivity is to develop a simple process measuring performance and posts results in the warehouse. It does not have to be a complicated process. Simply measuring and recording the overall performance of the warehouse can generate positive results. If possible, individual performance can be added as a metric (standards) later after the organization, group or team's key performance indicators (KPI) are in place.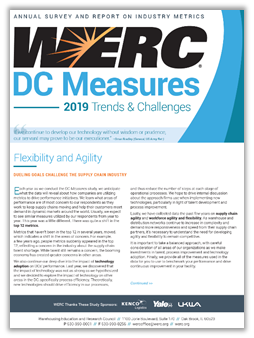 Benchmarking helps your company to compare how well you are performing against others and identifies whether your company is at a disadvantage. Whether you are benchmarking to increase productivity or reduce operating expenses, driving best-in-class performance may increase efficiencies, profitability, and improve customer service.
While the core of Benchmarking involves developing a better understanding of how your operations and processes are performing relative to others, these same metrics can be used to establish a baseline for improvement. Whether your goal is to become the best of the best warehouse, or simply make small incremental improvements you should consider starting by establishing current state measures of common warehouse performance metrics. The WERC DC Measures study is a good reference for warehouse KPIs.
Once organization wide KPIs are in place, you should next consider implementing individual performance metrics (standards) to support the KPIs, and incent individual performance. Establishing and implementing standards covers a spectrum of sophistication and is an evolutionary process starting with establishing a historical baseline for performance.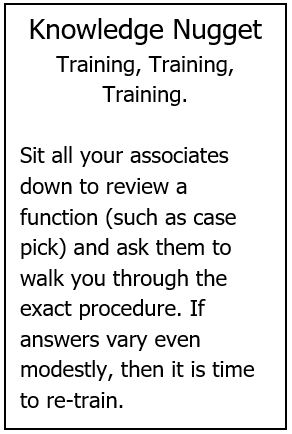 However, using historical performance metrics is similar to driving while looking in the rear-view mirror. You may get where you are going but the trip will likely take longer than needed. Once historical performance data is available, companies can trend and report the information to operators as a step to move productivity into the 65-75% range. With historical performance reporting in place, next is defining the best way to perform a task under normal operating conditions, or a preferred method.
A preferred method is a user friendly description of the best way to perform a task under normal conditions and is supported by a detailed list of instructions on how to best complete a task. With preferred methods in place, companies can then begin to experiment with engineered standards and incentive programs to drive productivity into the 95-110% range. However, implementing credible engineered standards and fair incentives typically requires investment in technology to support real time tracking and management.
For more information on how Impact WMS can help you measure productivity in your Warehouse visit our contact section by clicking the button to the right.